Welcome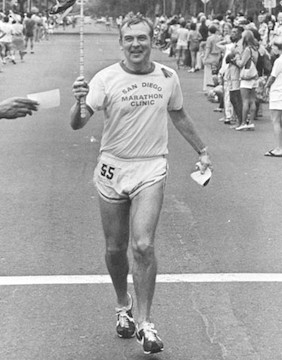 If you're one of the tens of millions of people whose life has been changed by following the advice of a doctor, a loved one, or a friend to "Get some exercise—you'll feel better", you have one man to thank, Thaddeus Kostrubala.
The link between exercise and feeling better, so firmly established now, was neither widely accepted, officially recommended, nor seriously investigated 30 years ago, when Dr. Kostrubala was doing all three. Having discovered the powerful transformative effect of running in his own life, Tad wanted to know more, understand more, and develop this amazing tool to help heal others. He quickly progressed from helping himself… to helping others… to training others to help even more people.
When I interviewed Tad for Prevention Magazine in 1978, he was already widely known as "The Running Psychiatrist" and the author of the bestselling book The Joy Of Running. He was deep in research and clinical studies about the effects of long-distance running—not just on a person's mood but on a person's life, and how that life fit into society and the history of human consciousness. Running wasn't just about biology and psychology. It was about anthropology, sociology, politics, war, peace, love, hate, courage—and the future. So is this website.
Thaddeus Kostrubala, M.D. stormed the gates of heaven on September 4, 2020, read his obituary below. ❤️