Running Therapy
In Chapter 7 of The Joy of Running I presented the psychologic effects of running. That Chapter is titled, "Theory".
In Chapter 8, "Running and Therapy", I explored the differences I found between traditional forms of psychotherapy and Running Therapy. I believe I am the originator of that term and concept called Running Therapy.
After reflecting on both the "Theory" and "Running and Therapy" for 30 plus years, I believe it is an effective form of therapy. However, as I will describe, it is very demanding on many therapists.
I will, in the next part of this section pick up the story of my use of Running Therapy after the publication of The Joy of Running.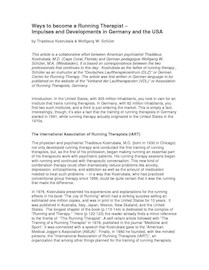 Ways to become a Running Therapist – Impulses and Developments in Germany and the USA
by Thaddeus Kostrubala & Wolfgang W. Schüler
March 2009

"New information about running therapy. Mr. Schuler contacted me a few months ago and collaborated on this article." -Dr. Thaddeus Kostrubala M.D. 13 March, 2009.